Season 65 Hall of Fame Ceremony
08-04-2023, 11:35 AM

hockeyfan Wrote:




JR95 - 70 Votes

S40-S63




Career Wins: 478 (.456 Win%)




3-Time Challenge Cup Champion (S41, S43, S47)
1 Time President's Trophy (S47)
2-Time Lance Uppercut Award Winner (S47, S63)
2-Time Damian Littleton Award Winner (S46, S53)



This Hall of Fame induction could not happen to a nicer guy, please join me in congratulating @JR95 into the SHL Hall of Fame as a GM!
Hell yes!!!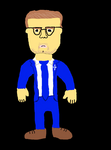 Oh wow that's an unexpected honor to happen now, thank you so much

Congrats, all 3 well-deserved! Also great that this is finally happening!
sigs either by @Wasty, @Nokazoa, @sulovilen, @Capt_Blitzkrieg, @sköldpaddor, @Ragnar, @enigmatic, @Lime or myself



my portfolio

|

my sig shop

|

gfx discord
Congrats to all 3 inductees! Well deserved!
Users browsing this thread:
1 Guest(s)